12
Ogura Toast
Characteristics
Presentation
Arrangement
Local Origin
Coffee shop
A half Japanese, half western coffee shop sweet, created in the Taisho Period (1912-1926).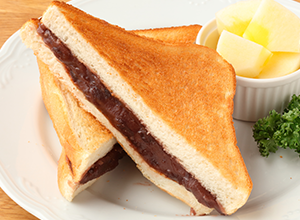 Ogura toast is a half-Japanese half western style sweet enjoyed at coffee houses. Butter or margarine is spread on the toast, and topped with Anko, sweet red bean paste. The saltiness of the butter and piping hot bread bring out the mellow sweetness of the Anko. Aichi Prefecture boasts a high consumption of Anko, and a high frequency of coffee shop use.

Origin
In the late Taisho period, the proprietress of a former central Nagoya city coffee shop, 'Kissa Matsuba', watched students dipping toast in red bean paste, and the idea for Ogura Toast was born.

Availability
It can be eaten at almost every coffee shop in Aichi Prefecture which has toast on the menu. As a local specialty it has become widespread, and there is also a wide variety of souvenir cookies, rusks and cakes which use it as a motif.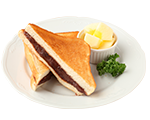 There is a sandwich type with Anko is sandwiched between two slices of bread, the open topping type, a self service type, and even a type served on an iron hotplate.